Throughout the year as a club we raise money for the Captains Charity and this year is not different, with the total already tallying up for the Princess Alice Hospice. However, we also host numerous other events that do their bit raising money for other fantastic charities. Just in the last two weeks alone days at the Drift have raised well over £20,000 and with many more in the diary we would hope the total amount of money raised at the club in 2023 will reach over £100,000. Below are a couple of snippets from 2 of the larger events we have recently hosted.
The British Heart Foundation Day
Organised by Ladies Committee member Jan Steward-Cattermole we saw the largest field ever playing at The Drift with 122 people for a shotgun start. This alongside special 'heartzones' on the course marked by heart balloons, some superb raffle prizes and a fun putting competition helped raise over £7,000 for the BHF.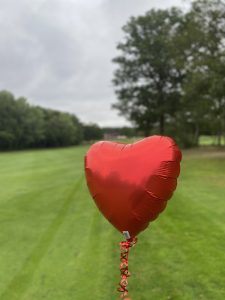 The Macmillan Charity Day
Also organised by a member, Seb Sharpe and his brother Tristan hosted a great day in aid of Macmillan Cancer Trust after unfortunately losing their cousin to cancer earlier this year. An incredible auction alongside some other fun games and fines enabled them to raise £11,500 on the day alone. A brilliant effort.

We always try to ensure that days in support of such wonderful charities are well supported by the club and if you are thinking about hosting a charity golf day, do please get in touch with the office.